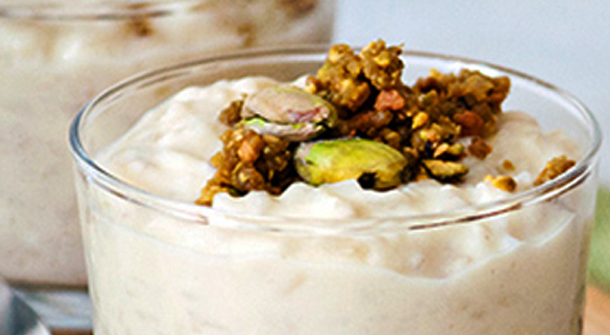 Ingredients
1/2 Teaspoon ground cardamom
1/8 Teaspoon ground cinnamon
1/8 Teaspoon ground nutmeg
1/4 Cup plus 1 tablespoon sugar
1/2 Cup Haryana King Basmati Rice, rinsed and drained
2 Cups milk
1 Cup cream
1/4 Cup pistachios, shelled and chopped, plus extra for garnish, if desired
1 Banana
Method Of Preparation
The butter should be melted over low heat in a medium saucepan. It should be stirred with the cinnamon, cardamom, nutmeg and sugar. It should be cooked for 1 minute by stirring consistently.
Rice, Milk and cream should be added and stirred. The mixture should be brought to a simmer over high heat. The heat should then be reduced for maintaining a simmer. The rice should be cooked uncovered till it becomes tender. It should be stirred occasionally for about 20-25 minutes.
It should be removed from the heat and the pan should be set aside. It should be kept uncovered till the Rice cools to the room temperature. It would take about 30 minutes to 1 hour. After the cooling of the Rice, the Banana is peeled and diced.
The Banana and pistachios should be stirred. Then the pudding should be covered and refrigerated till it becomes chilled. It should be garnished with extra Pistachios if desired.